A text-based version of the first 9 pages of my first draft of the screenplay The Fifth Husband. Currently undergoing revision…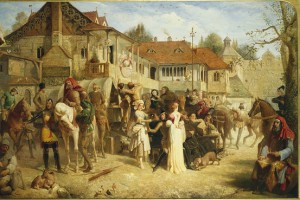 EXT. LONDON. ENGLAND. JUNE 1386. DAY.
The medieval city in all its color, romance, and barbarism.
At the heart of London is . . .
EXT. LONDON BRIDGE. DAY.
The Bridge is a bustling market. Shops from each side of the
Bridge arch over a two-lane road running down the middle. You
could get lost trying to navigate this, until . . .
EXT. SAINT THOMAS CHAPEL. LONDON BRIDGE. DAY.
The heart of the Bridge, St. Thomas Chapel, becomes the focal
point.
INT. SAINT THOMAS CHAPEL. UPPER CHAPEL. DAY.
ALYS, 29, prays alone in the chapel. Pretty face, lively
intellect, rich fabrics.
ALYS
Saint Thomas, do I ask for too
much? One husband, please, who will
live longer than two years.
Rising, she heads for the church exit, crossing herself with
holy water.
EXT. SAINT THOMAS CHAPEL. LONDON BRIDGE. DAY.
Alys, exiting the church, looks around and heads toward the
Southwark Gate.
EXT. LONDON BRIDGE. DAY.
Alys browses the shops along the Bridge as she goes. The
road is packed with human, animal and cart traffic.
EXT. FLOWER STALL. LONDON BRIDGE. DAY.
Alys points to a small bouquet of campanula flowers. The
MERCHANT, judging her wealth, reaches for a square of silk to
wrap the bouquet.
ALYS
Linen will do.
2.
Merchant, trades the silk for the cheaper cloth. Alys pays,
then tucks the bouquet into her sleeve at her wrist, smelling
the fragrance.
MERCHANT
A woman as fine as madame should
keep close only the gentle fabrics.
ALYS
A merchant as bold as this man
should keep close his unwanted
opinion.
Merchant blanches. Alys removes the bouquet.
ALYS (CONT'D)
But this man is correct. I will
take the silk.
Smiling, Alys drops more coin on the table. Merchant rewraps
the flowers. As Alys walks away the Merchant holds the
discarded linen square to his nose and inhales.
EXT. LONDON BRIDGE. DAY.
Back to the bustle of the traffic. Severed heads arrayed on
spikes are displayed at the Southwark gate, but for Alys and
the rest of the Bridge travellers they are just part of the
London scenery.
EXT. TABARD INN. SOUTHWARK GATE. LONDON. DAY.
Located just off the Bridge is the well-managed and popular
Tabard Inn. Alys crosses through the Gate and exits the
Bridge.
EXT. CARRIAGE YARD. TABARD INN. LONDON. DAY.
Horses and luggage wait in the yard. Alone and to one side
is a horse-drawn cart with a drape that shades its
inhabitant. This is Alys' LEPER HUSBAND.
Alys lifts her perfumed wrist to her nose, then peeks in
through the curtain.
The Leper Husband, completely covered up, wears a necklace of
bells around his neck. Alys will freely touch him but her
manner is very formal.
3.
ALYS
Husband, I believe Saint Thomas
will intervene on your behalf. I
have promised our pilgrimage to his
shrine if he will help you.
LEPER HUSBAND
My wound is grievous, wife.
They have had this discussion many times before.
ALYS
Your wound again. And your doubt.
LEPER HUSBAND
Lady, if a pilgrimage to Our Lord's
cradle did not cure me, I doubt in
the power of one English saint.
ALYS
You carried your leprous disease to
Jerusalem and back with bravery,
did you not? I refuse to believe
you will be laid low now.
LEPER HUSBAND
Alys . . .
Before he can continue, Alys walks away.
ALYS
I will not argue this again.
Making sure he cannot respond, she crosses the yard and
enters the inn.
INT. TABARD INN. PUBLIC ROOM. DAY.
A lively and well-kept tavern, the Tabard Inn is packed with
PILGRIMS. Alys, entering and looking around, is approached
by the HOST, Harry Bailey, a robust and confident man.
HOST
Harry Bailey, proprietor of this
inn and Host of our pilgrimage. Am
I right that you are one of our
pilgrims, Mistress?
ALYS
Yes.
4.
HOST
Let me introduce you to some of our
companions. Madame Eglantyne,
Prioress.
PRIORESS, an elderly nun surrounded by pampered doggies,
nods at Alys. She is a Very Important Person who is always
treated with deference. Feeding table scraps to her dogs is
the NUN'S BOY.
ALYS
Madame, my pleasure. Who is this
young gentleman?
Nun's Boy glances up at her and Alys smiles at him.
PRIORESS
He is in service at the monastery.
I must have a boy to manage my
poor, sweet hounds. He'll be
grateful to see the magnificent
shrine at Canterbury, won't you,
Boy?
NUN'S BOY
Yes, my lady Prioress.
PRIORESS
Quite so.
Host turns Alys toward a group of MEN drinking at a table.
HOST
Whom have we here? Miller, Cook .
. .
At their names the men look up. MILLER, 35, is brawny; his
handsomeness is hidden by his rough edges. COOK scratches at
an oozing sore on his leg. Both men are drinking and drunk.
MILLER
By Christ's wounds, who's this
delicious basket of peaches?
Cook and other Men at table laugh. Alys waits until they
settle down.
ALYS
A plump and succulent morsel whose
taste shall never pass the lips of
a drunkard like you.
She gets more laughs than the Miller did.
5.
HOST
Abide, brother Miller, in your
drink. Until you are sober the
good wife will overcome your wit.
MILLER
Wife!
Miller focuses his gaze on Alys, who looks him up and down
with distaste. Host tactfully leads her away, but an unseen
man addresses them.
PARDONER
Perhaps I may have the honor and
pleasure of meeting the good wife?
They turn to find themselves facing the PARDONER, an oily fop
with perfectly disheveled hair and a fashionable coat laden
with fake relics and artifacts. Alys, taking a step
backward, finds her hand caught and held up against the
Pardoner's lips.
ALYS
By the maidenhood of Saint Paul!
PARDONER
Madame, you cannot be surprised
that a man would humble himself to
your beauty?
ALYS
An honest woman is always made
cautious by the boldness of a
stranger.
PARDONER
Simkin the Pardoner can be no
stranger to you, good wife. I am
your servant on our faithful
pilgrimage.
(indicating his coat)
You can see how the saints have
blessed me with their holy relics.
Alys is no fool.
ALYS
I mean no disrespect, honorable
Pardoner, when I tell you that I
have known other men of your
profession who use the bones of
pigs and cows as a false substitute
for sainted remains.
6.
PARDONER
Good wife, I am horrified to hear
of such deception in my ranks. But
to wrest the confession from the
sinner sometimes needs drastic
means.
Entering the inn, the PRIEST, an energetic and peaceful man,
stops at the Pardoner's words.
PARDONER (CONT'D)
My holy duty is to save the soul
from fire and torment at any cost.
PRIEST
No, sir, it is my holy duty.
PARDONER
Father! I beg your pardon.
PRIEST
And a wicked cost cannot work Our
Lord's will.
PARDONER
Certainly, Father, certainly.
HOST
Father Priest, now that your
blessed presence is here, I will
call the pilgrims to the journey.
EXT. CARRIAGE YARD. TABARD INN. LONDON. DAY.
Pilgrims file out of the inn. Alys approaches Leper Husband
in his cart. As she leans in to talk, his BELLS jangle and
all eyes are on them. Everyone knows that the sound of the
bells means leper.
HOST
Good wife Alys, if I could take a
moment?
Alys walks over to the others, noticing their unease.
HOST (CONT'D)
Is the person in that cart on
pilgrimage with you?
ALYS
Yes, he is my husband.
7.
HOST
And does this person, your good
husband, wear the bells of a leper?
ALYS
Yes.
MURMURING begins. Pardoner decides to speak for the group.
PARDONER
Is your husband in much distress?
ALYS
Yes, I'm afraid that he is.
PARDONER
My pity for him is great, but . . .
ALYS
He must get to Canterbury to pray
to Saint Thomas for a miracle.
PARDONER
Has he the strength to make the
journey, good wife?
ALYS
My good husband traveled on
pilgrimage to the Holy Land and
back.
LEPER HUSBAND
(from the confines of his
cart)
Alys . . .
She will not brook an argument from him, or anyone else.
ALYS
No! My husband is a knight of the
Order of Lazarus. He will endure
the journey.
Separating themselves from the crowd are the KNIGHT, SQUIRE,
MONK and FRIAR. These four are constant companions who have
been trained for battle.
The Knight, powerfully built, wears a tunic rust-stained from
his armor. Squire, the Knight's son, appears a dandy at first
glance. Monk, with fur-lined cape and brace of greyhounds, is
an elegant figure. Friar, with his lute and over-stuffed
cape, is more comic than the others.
Knight bows to Alys.
8.
KNIGHT
Madame, may I be of service to a
fellow knight?
ALYS
Sir Knight, your chivalry does you
great credit.
KNIGHT
(to Host)
The Knights of Lazarus are
ferocious fighters for Jerusalem.
I feel certain you would not wish
to deny such a man his pilgrimage.
Like the Prioress, the Knight has much clout in the hierarchy
of the pilgrims. Deference to his opinion is required by
social manners.
HOST
Sir Knight, I bow to your superior
knowledge.
KNIGHT
(to Alys)
How came your good husband to be so
restricted in his health? The
Knights of Lazarus are known to
give years of service in their
cause.
ALYS
A dent in his armor pierced the
skin unbeknownst to him and the
wound was allowed to fester.
The four men recognize that this means death. They exchange
a glance. The Pardoner, loitering behind, listens and
watches intently.
ALYS (CONT'D)
But the intervention of Saint
Thomas will save him, I feel
certain.
The men will humor Alys.
FRIAR
By the grace of Jesu Christ I pray
it is so.
9.
SQUIRE
Would you allow us the honor of
attending your husband during the
journey, madame?
ALYS
Grant mercy, I thank you.
Knight, Squire, Monk and Friar join the Leper Husband at this
cart and proceed to occupy him.
FRIAR
(to Leper Husband)
Sir Knight, I have the most amazing
riddle that will pass the time most
excellently.
SQUIRE
Oh, no! Sir Knight my father, don't
let him tell that again!
FRIAR
But the good Knight of Lazarus has
not heard it.
SQUIRE
Everyone in Christendom has heard
it, it is so old!
Their voices fade away as they move forward.
The Pardoner, seeing his chance, oozes up to Alys.
PARDONER
Good wife, I am moved by your
courage during this trial.
The Pilgrims begin to leave the yard. Miller and Cook move
past Alys.
MILLER
By cock's bones, we know why Dame
Alys is so quick to speak of the
flesh of the peach. A wife with a
leper for a husband would be sore
in need of a man's swiving.
Alys recoils. Pardoner darts ahead of her and slaps the
Miller's face. Cook laughs.
COOK
The gelding has a kick.